Most people nowadays are aware of how important it's to drink and cook with home-filtered water and installing an effective, good quality water filter is essential to reduce daily toxin exposure. Fortunately most Australians have access to tap water that has been treated and disinfected to ensure basic safety for consumers.
According to The Australian Drinking Water Guidelines tap water "should contain no harmful concentrations of chemicals or pathogenic micro-organisms, and ideally it should be aesthetically pleasing in regard to appearance, taste and odour".
However, too often ensuring safe drinking water comes at the cost of the lingering taste and smell of disinfectants such as chlorine, presence of added ingredients such as fluoride, and traces of other pollutants including heavy metals, chemicals and pesticides. All these can be problematic for individuals with sensitive immune systems and malfunctioning digestion, to name a few.
Chlorine and fluoride in drinking water
Chlorine is added to our water to destroy germs, bacteria and living organisms. Sounds good BUT we are also living organisms and our bodies are also affected by chlorine internally when we consume tap water as well as externally via the skin when we shower!
Whilst it's an effective water disinfectant, it also kills the good bacteria in our guts contributing to the development of the many digestive complaints I see in practice every day.
Fluoride is also a controversial addition to our water supply and there is a continuous debate going on concerning its pros and cons (read more about this in my post here). Also, it's worth checking out the report on fluoride from the prestigious medical journal, The Lancet, which has officially classified fluoride as a neurotoxin — in the same category as arsenic, lead and mercury. Food for thought indeed.
I have been using water filters for many years  and recently I needed to change my old reverse osmosis filter to the gravity water filter that is portable, easy to use and, most importantly, effective in removing impurities.  I did thorough research into water filters using the above criteria and I came across some fantastic gravity water filters at The Water Shop in Sydney. They service all states in Australia via their online shop.  I found the staff at The Water Shop very helpful, knowledgeable and the customer service was great.
Gravity water filters remove virtually all impurities, keep the water cool naturally and improve the taste without the need for special plumbing or electricity connection. Here is some basic information from The Water Shop website: "Featuring the unique Ultraceram® filter cartridge, healthful minerals remain within the water supply whilst removing up to 99.99% of contaminants of concern to the consumer including fluoride. They too serve as an attractive addition to your home or office and also act as a smart, clean means to water storage".
Gravity water filters remove the following impurities
Metals and minerals – heavy metals, chromium, copper, chromium, iron, lead
Chlorine and fluoride
Bacteria – cryptosporidium, E.coli, giardia, cysts
Herbicides and pesticides
Taste and odour
Importantly, gravity water filters are also beautiful to look at and have around the kitchen. They are ceramic and handmade by an Australia pottery producer and you can choose the shape, size and colour that will go with your decor. Once installed (self-installation is really easy), all you need to do is to fill the filter with tap water and let the filter to do its magic.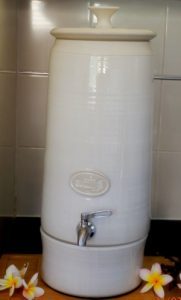 This is my gravity water filter in traditional white to match the kitchen tiles. I bought the 10 litre filter which perfectly fits to my small kitchen. It stands on the kitchen bench as it's only 20 cm wide and 52 cm high. It also acts as a handy water container keeping water cool and ready to drink anytime.
Once you have a reliable and tasty supply of clean drinking water, you'll be more motivated to improve your daily water intake by making tasty and nutritious flavoured water drinks – see my recipes for ideas and inspiration!
I also installed a shower filter to remove chlorine, enjoy smell-free water and stop absorbing chloride via the skin. There are many varieties of shower filters and it's best to contact The Water Shop or other suppliers to select the best filter for your needs and plumbing systems.
Do you have recommendations for great water filters? Do you use gravity water filters? Let us know by commenting below!
Good health and blessings

Joanna Sochan
Holistic Health and Lifestyle Therapist
Natural and Lifestyle Solutions for Chronic Diseases
Images source: The Water Shop
Check out other posts here: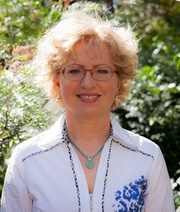 Joanna Sochan is a Natural Therapist and founder of Naturimedica Holistic Health & Wellness. She has a passion for helping her clients transform their lives by becoming healthy and well naturally. Joanna is a fatigue, sleep and gut health expert helping tired, stressed or unwell individuals to regain their energy, sleep better and be happier, more relaxed and calm. Joanna practices in Sydney and lake Macquarie, Australia and also conducts Skype / phone consultations for clients Australia-wide. View full bio.