Smoothies are such a typical 21st century food – compact, abundant in nutrients and quick and easy to make! And what a great way to start the day!
Freshly made is best but if mornings are hectic, you can make your smoothie the night before, refrigerate it and then re-mix it in the morning.
In my smoothie recipes, good quality protein is the basic material as it provides the building blocks needed by our cells for growth and repair. It also helps stabilise blood sugar levels, keeping us feeling fuller for longer and in a better mood, too.
In addition, protein helps boosts the immune system particularly after illness and during a flu season, helps us recover after exercise and build muscles, makes the skin, hair and nails stronger and glowing.
Here are my smoothie recipes for you!
Basic protein smoothie
1 scoop of quality whey protein powder or plant proteins such as pea, rice or hemp
1 cup full fat organic milk (if tolerant) / almond / rice / coconut or oat milk or coconut water, or diluted juice such as freshly squeezed orange juice mixed 50:50 with water
2 tablespoons of unsweetened natural plain organic yoghurt or kefir  (it contains plenty of good bacteria, much more than yoghurt)
1 handful of berries such as blueberries, strawberries, raspberries (low sugar, high fibre fruits) or other fruits
Around ¼ teaspoon cinnamon powder for improved taste and better blood sugar balancing (reduces cravings)
Blend together all ingredients and then add one or two of the foods below for extra power and taste:
1 handful of organic goji berries – packed with vitamins and antioxidants, great for eye health, cardiovascular system, diabetes, cancer prevention. Soak goji berries in water for softer texture.
1 teaspoon of raw honey – a great tasting and healthy sweetener, sustains energy especially after exercise, relieves cough and sore throat, aids sleep, boosts the immune system and treats stomach ulcers, bladder infections and arthritis, among others.
1 tablespoon of acai powder – rich in omega 3, 6 and 9s, antioxidants, vitamins and minerals (vit A, C, calcium, iron, sulphur, phosphorus and sodium) for healthy skin, hair and nails; high in fibre.
1 teaspoon of chia seeds – protein rich food containing antioxidants, amino acids, magnesium, calcium and fibre. Great for the bowels, boosting energy and mood! See more on benefits of chia HERE
1 tablespoon of lecithin granules – lecithin aids digestion and helps emulsify fats in the digestive system (helps the liver and gallbladder to work better), aids the nervous system especially the brain.
1 tablespoon of organic wheat germ powder – a gluten-free, natural source of vitamin E and good fats, great for healthy digestion, skin and heart / cardiovascular system.
1 teaspoon of organic maca powder – rich in amino acids, good fats, vitamins and minerals, important for supporting the endocrine (hormonal regulation), boosts adrenals (fatigue, tiredness).
1 teaspoon of slippery elm powder – soothes digestive tract inflammation, settles an acidic or irritated stomach and reflux, great source of fibre, supports the good bacteria in the gut.
1 teaspoon of your favourite green powder – a rich source of alkalising super greens, antioxidants, liver protecting herbs, prebiotics and amino acids – ideal for e a fussy eater or when not consuming enough fruit and vegetables daily.
1 teaspoon of organic cacao powder – contains many phytonutrients, vitamins, minerals and omega 3 fatty acids, rich source of super relaxing magnesium.
½ cup organic, gluten free rolled oats – rich in vitamins B and E, oats calm the nerves and enhance the mood, are high in fibre thus helps keep you feeling fuller for longer, cholesterol lowering effect.
1 teaspoon of either wheat grass, chlorella or spirulina powder – great for gentle detoxification, immune boosting helping to fight infections of all kind, enhance friendly flora, support gut health and better digestion, full of vitamins, vitamins and high in protein.
Mix well and enjoy!
Do you have any awesome smoothie recipes to share! Comment below.
Good health and blessings


Joanna Sochan
Holistic Health and Lifestyle Therapist
Natural and Lifestyle Solutions for Abundant Health and Wellbeing
Photo credit: Shutterstock
Check out other posts here: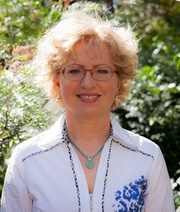 Joanna Sochan is a Natural Therapist and founder of Naturimedica Holistic Health & Wellness. She has a passion for helping her clients transform their lives by becoming healthy and well naturally. Joanna is a fatigue, sleep and gut health expert helping tired, stressed or unwell individuals to regain their energy, sleep better and be happier, more relaxed and calm. Joanna practices in Sydney and Lake Macquarie, Australia and also conducts online consultations for clients Australia-wide. View full bio.