Elderberry (Sambucus nigra) is a native of Europe and Western and Central Asia and its medicinal properties have been appreciated for centuries. Its flowers, berries, leaves and bark were traditionally used for treating colds, flu, nasal congestion, sore throat, cough, hay fever, wounds, eye infections, muscle pain and many other ailments.
Elderberry boosts the immune system
Elderberry is a powerful herb with strong immune-stimulating properties and it is one of the most potent antiviral remedies known to man.
Both berries and flowers have a long history of use. The flowers are used to promote sweating and thus reducing fever. The berries are rich in vitamin C and a wide range of important flavonoids, including quercetin, anthocyanins and antioxidants.
As many of my clients know, I often prescribe elderberry extract or capsules, especially in the treatment of flu, influenza, sinus infections and other viral infections. Nowadays, the traditional use of elderberry is being supported by clinical studies which demonstrate its effectiveness for the treatment of influenza A and B.
Research indicates that elderberry has antiviral activity and immune enhancing activity. Researchers have found that compounds in elderberry bind to the flu virus, inhibit its replication and prevent the virus from penetrating cell walls.
Israeli scientists have extensively a tested standardised elderberry extract, finding significant improvement in flu symptoms or a complete cure in approximately 90% of cases within two to three days, compared to six days for a control group (1).
In this study people with influenza were given an elderberry extract within the first 48 hours of onset of symptoms. This resulted in a significant improvement in symptoms after 3 to 4 days. This same level of improvement took 7 to 8 days in those receiving placebo.
There was also improvement in aches and pains, frequency of coughing, quality of sleep, mucus discharge in the respiratory tract and nasal congestion in those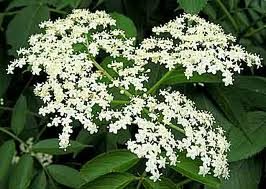 receiving elderberry. According to the researchers "No satisfactory medication to cure influenza type A and B is available".
Considering the efficacy of the extract in vitro on all strains of influenza virus tested, the clinical results, its low costs and absence of side-effects, this preparation could offer a possibility for safe treatment for influenza A and B" (1).
A 2009 clinical trial found that the H1N1 influenza inhibitory activity of the flavonoids found in elderberry compare positively with Tamiflu and Amantadine anti-influenza activities (2).
The juice of elderberries reduces excessive mucous secretion and some researchers believe that elderberries play a role in reducing the swelling of mucous membranes and thus improving sinus drainage.
In another study designed to examine the effects of a standardised extract elderberry on 3