As a dedicated GAPS practitioner I'm constantly searching for and experimenting with easy to make but nutritious GAPS recipes to suggest to my clients, usually busy mums. I find that making GAPS desserts could often be the trickiest part of meal preparation for many of them but it needn't be this way at all!
In this post I've put together a few tried and tested recipes for GAPS desserts I make on a regular basis and also get a good feedback on from my clients. Needless to say, these GAPS desserts are not only for individuals who follow the GAPS diet, they can also be enjoyed by all who are looking to add simple, nutritious and delicious desserts or snacks to their menus.
All GAPS desserts recipes (listed alphabetically), have a relatively small number of simple ingredients, plus they are gluten, diary and sugar free (honey is the sweetener of choice in all recipes).
Enjoy making these GAPS desserts and eating them as well!
Almond and mandarin cake – a great weekend or party treat!
(suitable for the Intro** and Full GAPS diet)
4 mandarins (approx 400g), ideally organic
5 organic eggs
5 tablespoons of raw honey (approximately, more if needed)
3 cups of almond meal
1 teaspoon of baking powder (gluten free) or ¾ teaspoon of bicarbonate soda
Butter for the cake form
Wash the mandarins thoroughly to remove any skin coatings (if not organic) – see the tip below. Put unpeeled fruit in the pot, cover with water and gently cook for around 1.5 hours or until very soft. Cool down, cut in half and remove any pips, then mix the fruit in the blender to puree consistency. Cool down to room temperature.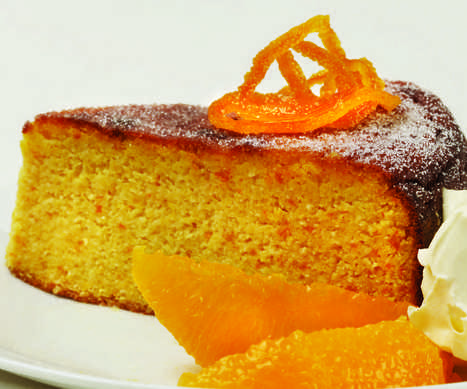 Preheat the oven to 180C/ 356F. Beat eggs with sugar until fluffy and almost white; add the mandarin puree, almond meal and baking powder. Mix well gently. Grease a baking form with butter (15 x 24cm form is best as it will give the cake a good height), cover the bottom part with the baking paper and pour in the mixture.
Bake for around 50 minutes in 180C/ 356F (fan oven). When ready, switch off the oven and leave the cake in there for another 20-30 min. Sprinkle with nuts or desiccated coconut. The cake is quite moist and will keep well in the fridge for 2-3 days.
Instead of mandarins you can also use oranges or blood oranges (when in season), although mandarins taste especially nice in my opinion!
TIP: Wash the non-organic mandarins in a sink or bowl as follows: fill up the sink with water, add a few tablespoons of apple cider vinegar, stir and soak for approximately 30 minutes stirring a few times. Alternatively, spray the mandarins with the apple cider vinegar/water mixture and let it sit for about five minutes before rinsing thoroughly.
**Can be introduced from the Intro Stage 6 onward.
Almond and vanilla cookies
(suitable for the Intro** and Full GAPS diet)
2 organic eggs
3 cups almond meal
¾ teaspoon baking soda
1 tablespoon raw honey
¼ cup organic cold pressed coconut oil or almond oil
1 teaspoon pure vanilla extract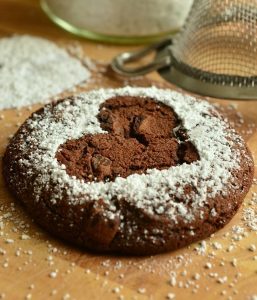 Preheat the oven to 150 C/ 302F. Combine almond meal and baking powder; add the oil, honey, vanilla and eggs. Mix into a soft dough. Flatten out the dough to 1 cm thick on the surface dusted with a little almond meal. Cut into small cookies and place onto a baking tray covered with baking paper. Bake for 20–25 minutes or until golden and cooked through. Cool and serve with nut butter.
TIP: Make thinner cookies and 'glue' them together with nut butter or organic butter (or coconut butter) and honey mixture.
**Can be introduced from the Intro Stage 6 onward.
Chia and coconut porridge
(suitable for Full GAPS diet only**) 
1/2-1 cup chia seeds (the more you use, the thicker the mix)
1 can (approx 440ml) organic coconut milk
For topping: fresh or frozen fruit, homemade yoghurt, chopped nuts or a small amount of raw honey.
Combine the chia seeds and coconut milk in a glass dish or bowl, cover with a lid. Place in the fridge and leave to soak for a minimum of 4 hours (or best overnight). In the morning, stir through the tick mixture. Heat it until just warm or have it as a cold dessert in summer.
Place 1-2 tablespoons of the chia mixture into a bowl (start with smaller amounts and build up as chia seeds are rich in fibre and may irritate the gut) and top with fresh or frozen fruit, yoghurt, chopped nuts and/or a small amount of honey.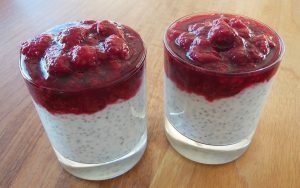 Chia seeds are a good source of fibre, plant protein and beneficial fats (plant omega 3 source). When they are soaked, chia seeds develop a soft viscous coating known as mucilage. Learn more about the many chia seeds benefits here.
TIP: This recipe can be prepared in advance and eaten over several mornings, as afternoon snacks or desserts.
**Important: chia seeds are very fibrous and should not be consumed until diarrhoea has cleared completely, usually after the completion of the Intro diet.
Raw digestive cookies
(suitable for the Intro** and Full GAPS diet) 
Makes around 10-12 small cookies
Dry and ground herbs:
2 teaspoon cinnamon
1 teaspoon fennel
1/4 teaspoon ginger
1/8 teaspoon nutmeg
1/8 teaspoon cloves
1/8 teaspoon cardamom
1/8 teaspoon allspice
Other ingredients:
1-3 tablespoons raw honey, to taste
1/2 cup almond (or other nut) butter
1/4 cup ghee or coconut oil or melted butter, or any combo
1 cup unsweetened shredded coconut
Sea salt (a pinch or two), if the nut butter is unsalted
Mix the ingredients thoroughly, place on the baking paper. To form a "bar" spread the mix on the baking paper, fold the paper over the top to create the bar. Alternatively, you can use a cookie cutter to make different shapes. Place the bar in the freezer.  The cookies will be ready to eat in 20 minutes or so. Store leftovers in the freezer.
This is one of my favourite GAPS desserts, it tastes and smells great. I found it a few years ago on the internet but didn't copy the link at the time so I'm not able to acknowledge the author. These cookies greatly aid digestion and elimination helping with flatulence, bloating and spasms.
TIP: You can make your own herb mix and use different nut butters for different flavours. Also, the dough can be cut into various shapes to make the cookies attractive/ interesting for children.
**Can be introduced from the Intro Stage 6 onward.
Speedy banana and strawberry ice cream
(suitable for the Intro** and Full GAPS diet)
Serves: 4
4 frozen bananas (very ripe, with brown spots)
10-12 frozen organic strawberries
1 tablespoon raw honey (or to taste)
2 teaspoons pure vanilla extract
3-4 tablespoons organic coconut milk (or cream for smoother consistency)
For topping: fresh berries, desiccated coconut, nuts
Blend the bananas, strawberries, honey, vanilla extract and coconut cream/ milk in a food processor until you get a smooth cream paste (2-3 minutes). Divide into small bowls and garnish with berries, nuts or a sprinkling of coconut.
TIP: Cut your excess ripe bananas into pieces, put them into a container and store in the freezer to have them ready anytime you like to make this quick treat!
**Can be introduced from the Intro Stage 6 onward.
Stewed apples
(suitable for the Intro** and Full GAPS diet)
2 kg of apples (Granny Smith are best as they are low in sugar)
Cinnamon and cloves (optional)
1 tablespoon raw honey
Cut the apples into thin slices (use apples with skin if you want more fibre or without skin on the Intro diet from Stage 5 onward), put it onto a deep frying pan, add a small amount of water, 1 teaspoon or so of powdered cinnamon and a few cloves for great taste and aroma. Stew the mixture under cover for 15-20 minutes or until soft, then add about 1 tablespoon of honey, mix well and stew for a few minutes. Store in a glass container in the fridge for up to a week.
TIP: Warm the stewed apples up and add them to homemade yoghurt or as a sweet spread on seed crackers. Sprinkle with nuts or seeds if desired.
**Can be introduced from the Intro Stage 5 onward.
Strawberry gelatine gummies
(suitable for the Intro** and Full GAPS diet) 
500g fresh organic strawberries
1 coconut water (600-800ml)
4 tablespoons high-quality gelatine powder (e.g. Great Lakes brand, green label variety)
1-2 tablespoons honey (optional)
1-2 teaspoons coconut oil
1 tablespoon lemon juice
Zest of 2 lemons or 1 orange
Grease a glass baking dish (20 cm x 20 cm size will guarantee gummies that are nice and thick) with coconut oil. Chop the strawberries, place in a medium pot over medium heat, add coconut water and bring to a boil. Reduce heat to low and simmer until the strawberries soften and release the juice (around 10 minutes).
Cool the mixture until lukewarm and then pour it into a blender and process until smooth. Next pour the mixture back into the same pot you used to prepare the strawberries. Add the lemon zest, lemon juice and honey (optional). Gently stir to combine.
Slowly add the gelatine one tablespoon at the time and whisk it constantly until it completely dissolves before adding more. Pour the mixture into the glass baking dish and refrigerate for at least two hours or until the gelatine is firm to the touch. Cut into squares as large or small as you'd like. Store covered in refrigerator for three to four days.
TIP: You can pour the final mixture into different shape silicon molds to create a visually appealing dessert. Also, you can add fresh fruit such as banana or strawberry pieces just before you place the mixture in the fridge. Use different allowed fruit to make the gummies or make two different types at the same time.
**Can be introduced from the Intro Stage 6 onward.
For more GAPS desserts ideas and recipes, check out the links below:
Banana Pecan Spice Bread (grain free)
http://www.quirkycooking.com.au/2016/03/banana-pecan-spice-bread-grain-free/
Gelatine Jigglers Fruit Snacks – Healthy Nourishing Gummies
http://paleoparents.com/featured/gelatin-jigglers-fruit-snacks-healthy-nourishing-gummies/
I would love to know your tried and trusted GAPS desserts and recipes, and other great desserts as well. Please share them with us by posting them in the comments section below. Thank you!
Good health and blessings

Joanna Sochan
Holistic Health and Lifestyle Therapist
Natural and Lifestyle Solutions for Chronic Diseases
Check out other posts here: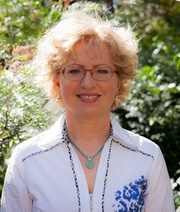 Joanna Sochan is a Natural Therapist and founder of Naturimedica Holistic Health & Wellness. She has a passion for helping her clients transform their lives by becoming healthy and well naturally. Joanna is a fatigue, sleep and gut health expert helping tired, stressed or unwell individuals to regain their energy, sleep better and be happier, more relaxed and calm. Joanna practices in Sydney and Lake Macquarie, Australia and also conducts online consultations for clients Australia-wide. View full bio.