As a dedicated GAPS practitioner I'm constantly searching for and experimenting with easy to make but nutritious GAPS recipes to suggest to my clients, usually busy mums. I find that making GAPS desserts could often be the trickiest part of meal preparation for many of them but it needn't be this way at all!
In this post I've put together a few tried and tested recipes for GAPS desserts I make on a regular basis and also get a good feedback on from my clients. Needless to say, these GAPS desserts are not only for individuals who follow the GAPS diet, they can also be enjoyed by all who are looking to add simple, nutritious and delicious desserts or snacks to their menus.
All GAPS desserts recipes (listed alphabetically), have a relatively small number of simple ingredients, plus they are gluten, diary and sugar free (honey is the sweetener of choice in all recipes).
Enjoy making these GAPS desserts and eating them as well!
Almond and mandarin cake – a great weekend or party treat!
(suitable for the Intro** and Full GAPS diet)
4 mandarins (approx 400g), ideally organic
5 organic eggs
5 tablespoons of raw honey (approximately, more if needed)
3 cups of almond meal
1 teaspoon of baking powder (gluten free) or ¾ teaspoon of bicarbonate soda
Butter for the cake form
Wash the mandarins thoroughly to remove any skin coatings (if not organic) – see the tip below. Put unpeeled fruit in the pot, cover with water and gently cook for around 1.5 hours or until very soft. Cool down, cut in half and remove any pips, then mix the fruit in the blender to puree consistency. Cool down to room temperature.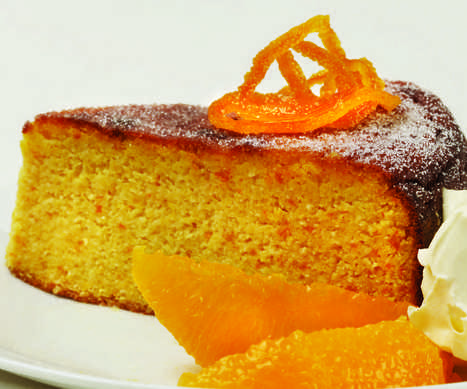 Preheat the oven to 180C/ 356F. Beat eggs with sugar until fluffy and almost white; add the mandarin puree, almond meal and baking powder. Mix well gently. Grease a baking form with butter (15 x 24cm form is best as it will give the cake a good height), cover the bottom part with the baking paper and pour in the mixture.
Bake for around 50 minutes in 180C/ 356F (fan oven). When ready, switch off the oven and leave the cake in there for another 20-30 min. Sprinkle with nuts or desiccated coconut. The cake is quite moist and will keep well in the fridge for 2-3 days.
Instead of mandarins you can also use oranges or blood oranges (when in season), although mandarins taste especially nice in my opinion!
TIP: Wash the non-organic mandarins in a sink or bowl as follows: fill up the sink with water, add a few tablespoons of apple cider vinegar, stir and soak for approximately 30 minutes stirring a few times. Alternatively, spray the mandarins with the apple cider vinegar/water mixture and let it sit for about five minutes before rinsing thoroughly.
**Can be introduced from the Intro Stage 6 onward.
Almond and vanilla cookies
(suitable for the Intro** and Full GAPS diet)
2 organic eggs
3 cups almond meal
¾ teaspoon baking soda
1 tablespoon raw honey
¼ cup organic cold pressed coconut oil or almond oil<