Delicious and easy baked salmon dish served with goats cheese and a salad made of roasted pumpkin, baby spinach and rocket leaves plus steamed broccolini.
Makes 2 servings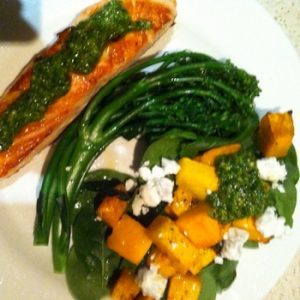 2 salmon fillets
100g of soft goats cheese
Handful of baby spinach leaves
Handful of rocket leaves
1 bunch of broccolini
3-4 slices of roasted pumpkin
Salt, pepper, fresh rosemary
2 teaspoons of goat's yoghurt
Cut rosemary leaves into small pieces, spread over each salmon cutlet, add salt and pepper to taste. Wrap each salmon cutlet separately in an aluminium foil. Bake in a medium hot oven (approximately 180C) for about 15 minutes. In a meantime, wash spinach and rocket leaves and toss together.
Crumble the goats cheese into small pieces, add yoghurt, and mix well. Add to the leaf mixture and toss lightly together. Place on a plate, top with roasted pumpkin, add salt and pepper to taste. Serve hot salmon fillets along with the salad.
Enjoy!
Good health and blessings

Joanna Sochan
Adrenal Fatigue and Digestive Health Expert
Naturopath
|| Herbalist
|| Nutritionist || Reiki Practitioner
Check out our other posts here:
Like what you've read? Spread the word to family and friends – share this post!