As I write this, we're in the midst of devastating bushfires here in Australia that've been continuing for many months now. Even people living far away from the fires or along the coast close to water have been impacted by the smoke and dust as it travels across the land. This resulted in wide-spread bushfire smoke inhalation health concerns that need to be addressed as soon as possible.
Additionally, the emotional aspects and distress felt because of the fires causing such a widespread damage to peoples' livelihoods and the environment, are taking an enormous toll on the population.
I've been personally affected by the smoke and dust from the wildfires as I live in a bushfire prone area, and felt many detrimental effects of them on my health. I stayed indoors for days or even weeks and when I went out, the visibility was restricted to 10 meters on some days due to the thick smoke haze – I couldn't see my neighbour's house across the road for a good while!
See the neighbourhood photos below to get an idea on how bad it's been and the very poor air quality we've had during these intense fires.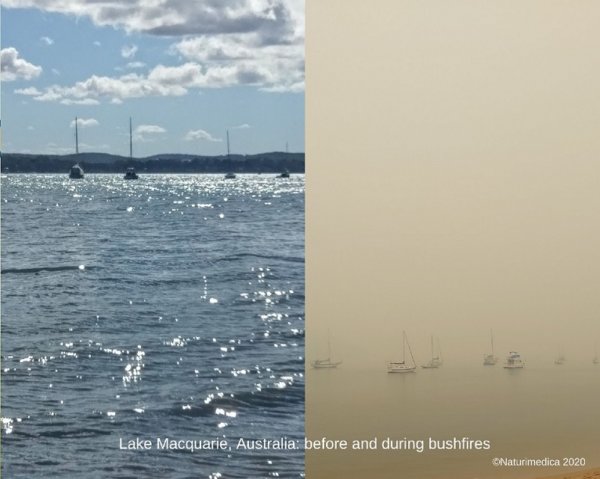 During this time of great need, I put together an emergency and/or recovery bushfire smoke inhalation health kit for myself as well as my clients and neighbours. I'd like to share it with you too in the hope it'll help you cope better with the challenging conditions and circumstances, and support your health and wellbeing.
This post covers the most effective and tested natural methods I found to reduce a personal exposure to bushfire smoke and dust, plus the best natural remedies to recover from bushfire smoke inhalation side-effects. These recommendations and tips can be applied anywhere in the world with great results guaranteed!
You'll find a free PDF summary of all recommendations at the end of my post.
So, let's get started.
How to reduce your exposure to bushfire smoke
Overall, healthy people can tolerate short periods of smoke exposure quite well. However, those with pre-existing lung or heart conditions, children, pregnant women, and the elderly are more likely to be negatively affected by smoke and dust. Therefore, please seek immediate medical advice if you have trouble breathing or fall in one of the higher risk groups mentioned above.
Here are my key recommendations
Stay indoors as much as possible and close all windows and doors. Make sure the house is well-sealed which can largely prevent the smoke particles getting into the home.
Take off your shoes and leave them outside, ideally in a closed box. Change your clothes when you get home and wash them.
Take a shower and wash your hair after being outside.
Remember ab