Snacks for work need to be simple and easy to prepare. They also should be nutritious, high in protein and good fats for sustained energy and lower in carbohydrates to curb the sweet and coffee cravings during the working day. Here are my top suggestions (all recipes are also gluten free) for you to try a few recipes for homemade healthy snacks for work!
Basic Protein Smoothie
1 scoop of quality whey protein powder or plant proteins such as pea, rice or hemp
1 cup full fat organic milk / almond / rice / coconut or oat milk or coconut water or diluted juice such as freshly squeezed orange juice mixed 50:50 with water
2 tablespoons of unsweetened natural plain organic yoghurt or kefir – it contains plenty of good bacteria, much more than yoghurt
1 handful of berries such as blueberries, strawberries, raspberries etc
Around ¼ teaspoon cinnamon powder
Blend together all ingredients and then add one or two of booster foods for extra power and taste These include: raw honey, acai berries, chia seeds, maca powder, chlorella powder, among others. Click here are more ideas.
Sesame Bliss Balls
Grind 10 tablespoons of sesame seeds (preferably organic), then add the following:
5 tablespoons of almond meal
Around 1 tablespoon of raw honey
1-2 scoops protein powder (optional)
1-2 teaspoons organic unsulphured molasses (or to taste)
1 teaspoon cocoa powder (optional)
Pinch of cinnamon
Mix all ingredients, adjust consistency as needed to form little balls – add a bit of water if required. Coat with coconut, nuts or cocoa powder. Keep in the fridge. Have 2-3 per day as a dessert/snack.
Adding one banana (mashed until almost liquid) will further enhance the flavour. Experiment with proportions and ingredients to find the best combination for you.
Tahini Bliss Balls
1 cup of rolled oats
1/2 cup of tahini
1/2 cup of chopped walnuts
2 – 4 tablespoons of honey
Place all the ingredients except for the chopped walnuts in a blender and process until smooth. Roll the mixture with your hands into small balls. Then pour the walnuts on a chopping board and coat the balls in walnut pieces. Place the balls on a plate and refrigerate until hard. Keep in the fridge for up to a week.
Find more bliss balls recipes here.
Chia and Coconut Porridge
1/2-1 cup chia seeds (the more you use, the thicker the mix)
1 can (approx 440ml) organic coconut milk
For topping: fresh or frozen fruit, homemade yoghurt, chopped nuts or a small amount of raw honey.
Combine the chia seeds and coconut milk in a glass dish or bowl, cover with a lid. Place in the fridge and leave to soak for a minimum of 4 hours (or best overnight). In the morning, stir through the tick mixture. Heat it until just warm or have it as a cold dessert in summer.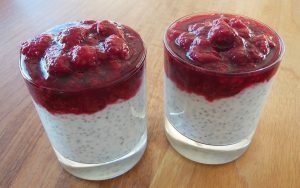 Place 1-2 tablespoons of the chia mixture into a bowl (start with smaller amounts and build up as chia seeds are rich in fibre and may irritate the gut) and top with fresh or frozen fruit, yoghurt, chopped nuts and/or a small amount of honey.
Chia seeds are a good source of fibre, plant protein and beneficial fats (plant omega 3 source). When they are soaked, chia seeds develop a soft viscous coating known as mucilage. Learn more about the many chia seeds benefits here.
TIP: This recipe can be prepared in advance and eaten over several mornings, as afternoon snacks or desserts.
Homemade Muesli Bars
3 cups natural muesli
1/2 cup LSA (linseeds, sunflower seeds, almonds) – best to make your own!
3 organic eggs
60 ml olive oil
1-2 tbsp honey (to taste)
1 tsp real vanilla essence
1/2 tsp ground cinnamon
1/8 tsp of ground cloves (optional)
Pinch of Celtic salt
Preheat oven to around 180C. Mix all ingredients in a bowl until well combined. Spoon into a tin lined with baking paper. Bake for 25-30 minutes or until golden. Cool then cut into small pieces. These will keep well in the fridge for up to a week.
Almonds with Green Olives (savoury snack)
200g raw almonds
2 tbsp extra virgin olive oil
300g marinated green olives
1 tbsp fresh oregano
Sea salt
Start with lightly frying the almonds in a hot pan for a few minutes until the almonds darken a bit. Add olive oil and salt and continue frying and mixing with the spoon for 2-3 minutes, put aside until cold. Next add the olives and finely cut oregano. Mix well and enjoy with gluten free crackers and hummus!
Spicy Pumpkin Hummus
2½ cups cooked chickpeas
½ cup pureed pumpkin
¼ cup water
2 garlic cloves, minced
2 tbsp lemon juice
2 tbsp extra virgin olive oil
1 heaping tbsp tahini
1 tsp cumin
¼ tsp cayenne pepper
Celtic sea salt to taste
Place chickpeas, garlic, lemon juice, water, and tahini in a food processor. Process until smooth. Add pumpkin and seasonings, process to combine. With motor running, drizzle in oil until blended. Give it a little taste test and add more seasonings or lemon juice as needed.
What are your go to snacks for work? Share your choices and recipes below!
Good health and blessings

Joanna Sochan
Adrenal Fatigue and Gut Health Expert
Naturopath || Herbalist || Nutritionist || Reiki Practitioner
Check out other posts here: