Creating beautiful cakes and original cake decorations is such fun! It's my time to play, be creative and give a gift of love to my family or friends.
The good news is that any cake can be transformed (even a plain cake you buy at a supermarket!) by using fresh fruits, nuts and seeds. All decorations must be edible and delicious, of course:)
Here's the cake I made recently to inspire you! I used almonds, pumpkin seeds, goji berries and raspberries.
To get you started I have also included my 2 favourite healthy cake recipes.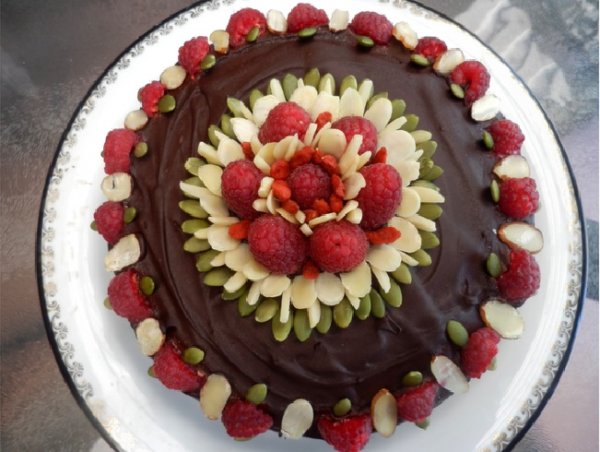 BANANA ALMOND CAKE
(Gluten free)
1 1/2 cup almond meal
1/2 cup coconut flour
1 tsp baking soda
1/2 tsp Celtic sea salt
4 eggs (room temperature)
1/3 cup olive oil
2-3 ripe bananas, mashed
1/2 cup honey
1 tbsp vanilla extract
1 tsp of lemon juice
Preheat the oven to 180C. Grease the bottom and sides of the medium size cake tin and place baking paper into the bottom of the tin.
Place almond meal, coconut flower and salt in a large mixing bowl and mix the ingredients together to combine them evenly.
In a different bowl, beat the eggs until light and fluffy, add olive oil, honey, banana mash, vanilla and lemon juice. Mix well in a food processor or hand mixer. Add this mix to the first one and blend for around 2 minutes in a food processor.
Pour the batter into the prepared cake tin and bake for approximately 30 minutes or until an inserted skewer comes out clean. Cool well before decorating.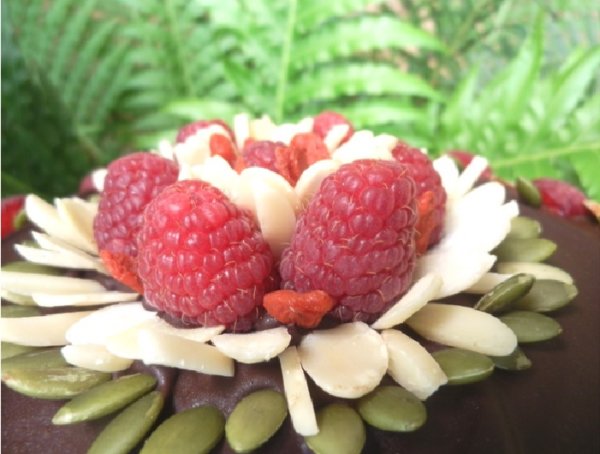 RAW BLUEBERRY 'NO CHEESECAKE'
For the base
2 1/2 cups organic almonds
2 1/2 cups organic medjool dates (approximately 15)
2 x 20ml tablespoons organic coconut oil
good pinch of Celtic or Himalayan salt
For the filling
3 cups raw organic cashews (soaked overnight, then rinsed and strained)
juice of 1 whole large lemon or 5 limes
5 x 20 ml tablespoons coconut oil
1 teaspoons vanilla powder or liquid extract
2 x 20 ml tablespoons honey, maple syrup or rice malt syrup
2 cups organic frozen blueberries
To make the base, add the base ingredients into a food processor and pulse until the mixture comes together. Press the mixture firmly into a 20 cm diameter springform cake dish.
Transfer to the freezer whilst making the filling [note – I halved the recipe and used a smaller springform tin (it's pretty versatile). I also lined the tin with cling film for easy removal.]
To make the filling, add the filling ingredients except the blueberries to a high speed blender and blend until you get a velvety smooth consistency. Thermomix or Vitamix works best but food processor is OK, too.
Remove 3/4 of the filling and pour it over the base. Set aside in the freezer.
Put the blueberries into the remaining 1/4 of the filling and blitz until smooth. Pour over the second layer of the cake. Freeze until set.
Take the cake out of form the for about 2 hours before decorating to allow it to soften.
Source: http://www.rfhb.com.au/blog/holistic-lifestylers-raw-blueberry-no-cheesecake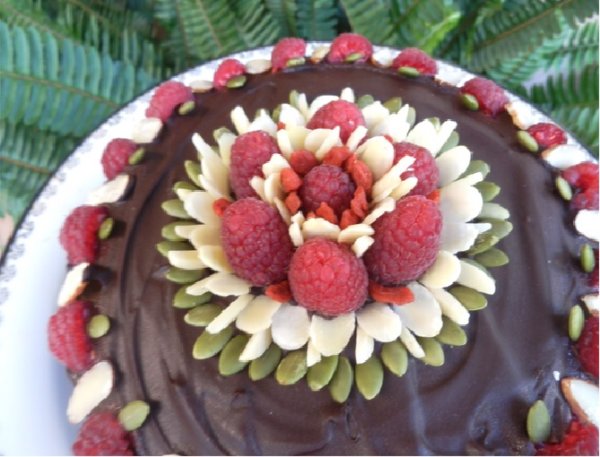 Be creative and enjoy making beautiful cakes and eating them as well!
Do you have photos of beautiful cakes? Please post them in comments for us to enjoy them, too.
Good health and blessings

Joanna Sochan
Holistic Health and Lifestyle Therapist
Natural and Lifestyle Solutions for Abundant Health and Wellbeing
Check out other posts here: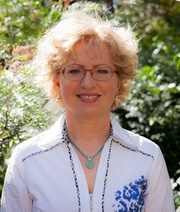 Joanna Sochan is a Natural Therapist and founder of Naturimedica Holistic Health & Wellness. She has a passion for helping her clients transform their lives by becoming healthy and well naturally. Joanna is an adrenal fatigue, sleep and gut health expert helping tired, stressed or unwell individuals to regain their energy, sleep better and be happier, more relaxed and calm. Joanna practices in Sydney and Lake Macquarie, Australia and also conducts Skype / phone consultations for clients Australia-wide. View full bio.

Print This Post