Have you ever tried making meals with spaghetti squash? I just did and was very pleased with the result:) Spaghetti squash is called a vegetable alternative to pasta because after cooking or baking it looks like thin, golden pasta.
It's really filling and using just one squash goes a long way, the one I got (see the photo) was 20cm long and provided 'spaghetti' for three people for lunch over two days. In Sydney spaghetti squash can be found at the Harris Farm shops.
Here's my spaghetti squash recipe:
Step 1
Buy 1 medium to large size spaghetti squash, cut lengthwise in half and remove the seeds. Bake in an oven (temp around 200C) for around 30-40 minutes or until soft.
Step 2
Let it cool down a bit and then use the fork to scrape the flesh which comes away from the shell looking just like spaghetti. Sprinkle the spaghetti'with sea salt and olive oil and mix well.
Step 3
The spaghetti is now ready to be served with your favourite sauce. I served it with a lamb bolognese sauce and green salad with dried olives. Sprinkle with Parmesan cheese if desired. Unused portions store well in the refrigerator for a few days.
Enjoy!
Good health and blessings

Joanna Sochan
Holistic Health and Lifestyle Therapist
Natural and Lifestyle Solutions for Chronic Diseases
Check out other posts: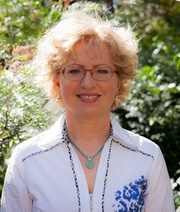 Joanna Sochan is a Natural Therapist and founder of Naturimedica Holistic Health & Wellness. She has a passion for helping her clients transform their lives by becoming healthy and well naturally. Joanna is a fatigue, sleep and gut health expert helping tired, stressed or unwell individuals to regain their energy, sleep better and be happier, more relaxed and calm. Joanna practices in Sydney and Lake Macquarie, Australia and also conducts online consultations for clients Australia-wide. View full bio.