Most of us know parsley as a tasty addition to meals but the truth is this green leafy herb packs some powerful health benefits as both the leaves and roots have medicinal properties.
In fact, parsley has so many nutrients that eating it is almost like taking a multivitamin, antioxidant and mineral supplement – one that is all natural and available at a fraction of the cost!
Benefits of parsley
Here is some examples of what parsley can do:
Aids digestion and elimination
Boosts energy
Relieves fatigue and supports the adrenal glands
Helps the heart function better
Dissolves cholesterol deposits
Helps to build bones
Enhances nutrient absorption
Eliminates bloating
Reduces inflammation
Provides hormonal support
Improves skin texture and decreases wrinkle formation
Parsley for specific health conditions
Parsley is a great natural skin treatment as it contains high levels of well-absorbed vitamin C in a matrix of other synergistic vitamins and minerals. Vitamin C is vital for many body functions but it's absolutely essential for a healthy and glowing skin.
It not only nourishes the skin but also reduces scars and blemishes, and stimulates the production of collagen, which is the key to cell repair and thus fewer wrinkles!
Parsley is well known for helping most kidney problems and bladder / urinary tract infections; it helps in water retention (oedema), and also provides general immune support.
Also, parsley has been proven to refresh the breath. It's very effective to chew some parsley after eating fresh garlic.
Moreover, parsley is high in chlorophyll – a blood purifier that aids in digestion and detoxification, particularly of the kidneys but also of the liver. And the herb packs in dense nutrients including:
 Vitamins – vitamin C (high content), beta carotene (provitamin A), vitamin K, and B vitamins including B1, B2, folate, B5, and B6.
Minerals – calcium, magnesium, phosphorus, iron (high content), manganese, sulphur and potassium.
Pyrroloquinoline quinone (or PQQ) – parsley is one of the best sources of PQQ, an essential nutrient and potent antioxidant that boosts the health, repair and function of mitochondria, our energy generators. PQQ has been found in many plant foods such as green capsicums, kiwi fruit, papaya and natto (fermented soy). Published studies show that 20 mg of PQQ plus 300 mg of CoQ10 may reverse age-related cognitive decline in aging humans.
Parsley also contains unique volatile oils that inhibit tumours – particularly in the lungs, according to research. These oils are able to neutralise some airborne carcinogens, including those found in cigarette smoke and smoke from charcoal grilling. Neutralising these airborne poisons may be why parsley helps prevent lung tumours.
To really get the immune building, nutrient fortifying, and detoxification benefits, you'll want to take parsley in some quantity (speak to your naturopath what amount is right for you). To do this, it's best to juice or blend parsley with other fruits or vegetables.
Fresh parsley can be used in many forms but one of the easiest is to make a parsley tea to sip throughout the day in addition to or instead of water. Try this simple parsley tea recipe:
Parsley tea recipe
Any kind of parsley is fine but flat leaf (Italian) parsley is more fragrant and less bitter than the curly variety.
Put 3-4 teaspoons of minced of parsley, including stems, in a medium teapot (800ml-1l) with an infusion basket.
Pour the boiling water on top filling the teapot, let steep for 5-8 minutes.
Remove the basket with the parsley and drink the liquid either hot or cold. It may be reheated but don't boil it.
Add a splash of fresh lemon (optional) to enhance the flavour and for more vitamin C.
Drink 4 cups throughout the course of one day for 7 days to treat urinary tract or bladder infection. Otherwise have 2-3 cups between meals for healthy skin, better daily detox and immune support.
Please note that pregnant women should avoid taking parsley in quantity as it promotes uterine contractions.
Enjoy the parsley tea and watch your skin becoming healthy, glowing and blemish free whilst your general health improves as well!
Good health and blessings

Joanna Sochan
Holistic Health and Lifestyle Therapist
Natural and Lifestyle Solutions for Chronic Diseases
Check out our other posts:
Photo credit: Shutterstock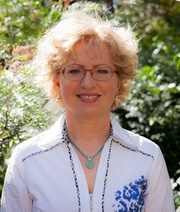 Joanna Sochan is a Natural Therapist and founder of Naturimedica Holistic Health & Wellness. She has a passion for helping her clients transform their lives by becoming healthy and well naturally. Joanna is an adrenal fatigue, sleep and gut health expert helping tired, stressed or unwell individuals to regain their energy, sleep better and be happier, more relaxed and calm. Joanna practices in Sydney and Lake Macquarie, Australia and also conducts Skype / phone consultations for clients Australia-wide. View full bio.

Print This Post