I have been interested and practicing earthing or grounding by walking barefoot on the grass or sand (beach sand is awesome!) for some time, and was planning to write a post on it but I found this great article by Dr Mercola that explains the benefits of it very well.
According to his article, studies have shown that earthing / grounding (absorbing antioxidants / electrons from the ground) improves blood viscosity, heart rate variability, inflammation, cortisol dynamics, sleep, autonomic nervous system (ANS) balance, and reduces effects of stress.
Grounding or Earthing is defined as placing one's bare feet on the ground whether it be dirt, grass, sand or concrete (especially when humid or wet). When you ground to the electron-enriched earth, an improved balance of the sympathetic and parasympathetic nervous system occurs.
The Earth is a natural source of electrons and subtle electrical fields, which are essential for proper functioning of immune systems, circulation, synchronization of biorhythms and other physiological processes and may actually be the most effective, essential, least expensive, and easiest to attain antioxidants.
Modern science has thoroughly documented the connection between inflammation and all of the chronic diseases, including the diseases of aging and the aging process itself.
It is important to understand that inflammation is a condition that can be reduced or prevented by grounding your body to the Earth, the way virtually all of your ancestors have done for hundreds if not thousands of generations.
Get those free antioxidants today, it's such a pleasure to walk on the grass anytime!
Here is the link to Dr Mercola's post.
Enjoy!
Good health and blessings

Joanna Sochan
Holistic Health and Lifestyle Therapist
Natural and Lifestyle Solutions for Chronic Diseases
Check out our other posts: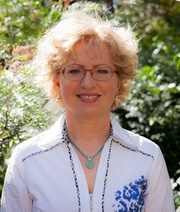 Joanna Sochan is a Natural Therapist and founder of Naturimedica Holistic Health & Wellness. She has a passion for helping her clients transform their lives by becoming healthy and well naturally. Joanna is a fatigue, sleep and gut health expert helping tired, stressed or unwell individuals to regain their energy, sleep better and be happier, more relaxed and calm. Joanna practices in Sydney and Lake Macquarie, Australia and also conducts online consultations for clients Australia-wide. View full bio.

Print This Post