Sweet, juicy, delicious and shiny bright red – strawberries are one of the most mouth-watering and loved fruits of all time. Not surprisingly we are now discovering why they are so good for us as the many benefits of eating strawberries on a regular basis are being researched extensively.
The most active component of strawberries identified through the research so far is a flavonoid called fisetin.
I looked through many studies involving strawberries and selected four examples of the most promising findings to date on the health benefits and nutrition content of strawberries. Here is the short summary of findings.
Strawberries: main benefits
Protect the brain, reduce inflammation, and support antioxidant function.
Reduce cardiovascular risk – lower total and LDL cholesterol, triglycerides and reduce free radical damage (1).
Positive impact on circulatory health by boosting antioxidants and anti-inflammatory responses and protecting red blood cells (2).
Reduce inflammation and insulin levels. Help to offset the stress of a high-calorie meal. So eat plenty of organic strawberries when having a feast! (3).
Modulate cholesterol levels in overweight people (4).
Important: Because strawberries are one of the most heavily sprayed crops, I recommend consuming organic strawberries as much as possible.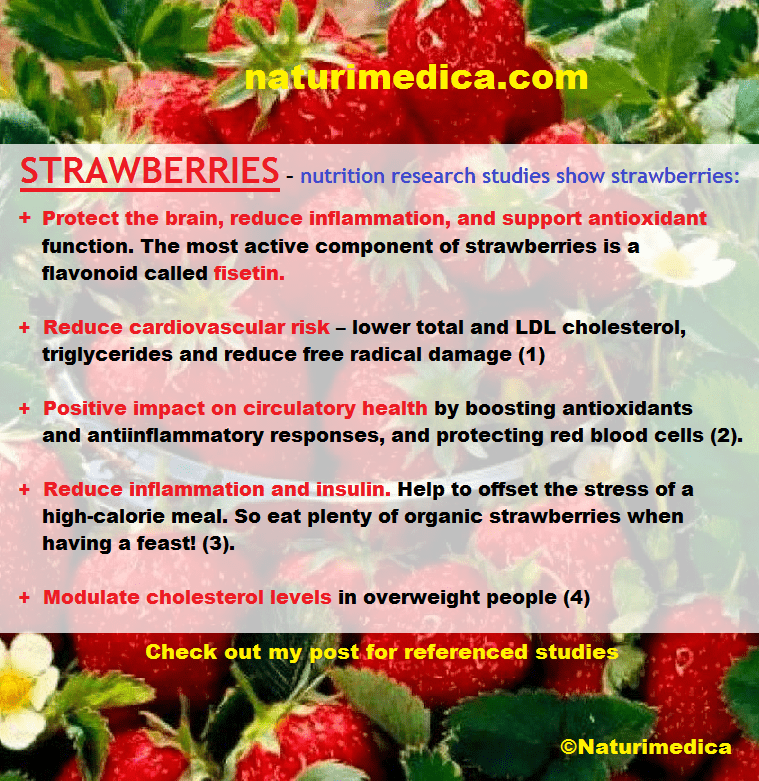 Good health and blessings

Joanna Sochan
Holistic Health and Lifestyle Therapist
Natural and Lifestyle Solutions for Chronic Diseases
Referenced studies
1. One-month strawberry-rich anthocyanin supplementation ameliorates cardiovascular risk, oxidative stress markers and platelet activation in humans. Alvarez-Suarez JM, Giampieri F, Tulipani S, Casoli T, Di Stefano G, González-Paramás AM, Santos-Buelga C, Busco F, Quiles JL, Cordero MD, Bompadre S, Mezzetti B, Battino M.; Dipartimento di Science Cliniche Specialistiche ed Odontostomatologiche, Facoltà di Medicina, Università Politecnica delle Marche, Ancona, Italy; J Nutr Biochem. 2014 March, 25(3):289-94
http://www.ncbi.nlm.nih.gov/pubmed/24406274
2. Strawberry consumption improves plasma antioxidant status and erythrocyte resistance to oxidative haemolysis in humans, Sara Tulipani, Josè M. Alvarez-Suarez, Franco Busco, Stefano Bompadre, Josè L. Quiles, Bruno Mezzetti, Maurizio Battino. Food Chemistry,2011 September Volume 128, Issue 1, Pages 180-186
http://www.sciencedirect.com/science/article/pii/S0308814611004067
3. Strawberry anthocyanin and its association with postprandial inflammation and insulin; Indika Edirisinghea, Katarzyna Banaszewskia, Jack Cappozzoa, Krishnankutty Sandhyaa, Collin L. Ellisa, Ravi Tadapanenia, Chulani T. Kappagodaa and Britt M. Burton-Freeman. British Journal of Nutrition / Volume 106 / Issue 06 / September 2011, pp 913-922; http://journals.cambridge.org/action/displayAbstract?fromPage=online&aid=8376140
4. Effects of dietary strawberry powder on blood lipids and inflammatory markers in obese human subjects, Susan J. Zuninoa, Mardi A. Parelmana, Tammy L. Freytaga, Charles B. Stephensena, Darshan S. Kelleya, Bruce E. Mackeya, Leslie R. Woodhousea and Ellen L. Bonnela. British Journal of Nutrition 2011 November http://journals.cambridge.org/download.php?file=%2FBJN%2FS0007114511006027a.pdf&code=e306825bd0f89fbebcc11dafcdd37ae9
Photo credit: Shutterstock
 Check out other posts here:

Print This Post