HOLISTIC ADRENAL FATIGUE RECOVERY PROGRAM
Did you know that adrenal fatigue syndrome i.e. HPA axis dysregulation (HPA = Hypothalamus-Pituitary-Adrenal) is at the root of many chronic health conditions? These include:
Insomnia and sleep problems

Digestive problems (bloating, constipation, diarrhoea, food sensitivities, IBS, SIBO)

Brain fog and memory lapses

Blood sugar imbalances (low or high)

Hormonal imbalances (PMS, difficult menopause)

Weight gain (especially around the middle)

Frequent illness (including colds and flu)

Many autoimmune conditions e.g Hashimoto's
Adrenal dysfunction depletes every single system of the body, from your gut, your brain, reproductive and thyroid hormones, your muscles and even your skin by accelerating skin ageing!
How do you know you have adrenal fatigue? Get tested! Testing is important not only to confirm if adrenal fatigue is actually present but also to exclude other conditions that have similar symptoms and presentation including chronic fatigue syndrome, mitochondrial dysfunction and circadian rhythms dysregultion. Find out more about testing for adrenal fatigue I do here.
Take the first step now! Complete this short Adrenal Stress Questionnaire to assess your current adrenal stress levels. The results and interpretation guide will be emailed to you. Also, please read my article on the adrenal fatigue treatment and The Kalish Method I use, in addition to my own treatment protocols honed over the past five years of working with many clients in adrenal burnout.
Having recovered from severe adrenal fatigue myself and then having guided many clients through the recovery process, I developed this program to provide you with a step-by-step roadmap to recharging your energy and reversing adrenal fatigue methodically and holistically. Importantly, you'll get the tools, skills and support you need to make the necessary changes to recover your energy and health for good.
Please note that this program isn't just about fatigue. The life-changing information and solutions provided will transform the way you manage your health from now on and help you recover your energy and finally turn your health and life around.
Addressing the HPA axis is a key factor to of achieve any health-related goal, whether it's recovering from chronic illness, enjoying the food you eat, moving with ease or just living as long and as healthy a life as possible.
Dealing with and repairing HPA axis function is something I do with every single client I work with as I believe it's absolutely necessary for recovery and healing from any chronic health condition.​
To further understand many aspects of adrenal fatigue and how it impacts your body, I recommend you review my articles covering key aspects of adrenal stress. 
PROGRAM OUTLINE
My aim was to create a program that is as simple to follow as possible when dealing with complex, long-term health imbalances. The program provides powerful and specific nutrition, supplement, stress management, sleep and exercise solutions, as well as emotional support that will get you feeling better soon, if you commit to consistently making the changes required.
The road to health won't be easy and there will be ups and downs on your journey. You'll need lots of support along the way, therefore I created this program to essentially hold your hand whilst you go through the steps and stages, as well as to provide you with effective, simple and doable solutions, both traditional and evidence-based natural remedies, where possible.
In addition to the support and encouragement you'll also need to make serious, life-changing shifts to your habits and daily routines if you want to maintain the health improvements and feeling good again. I'm afraid there are no shortcuts.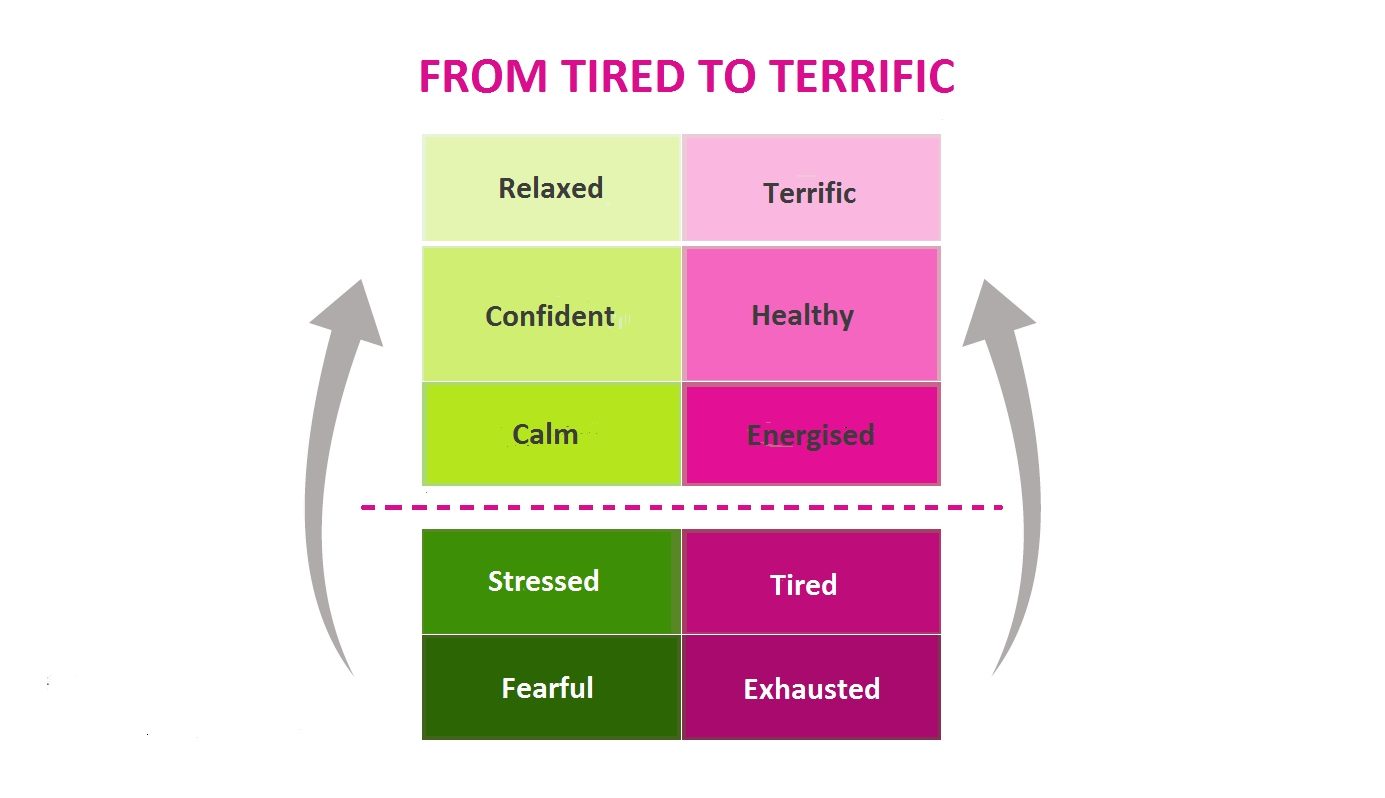 The program consists of 2 modules with 6 steps completed in either three or six months, depending on your level of health and time commitment. Each module addresses the steps necessary to deal with and rectify the core adrenal stress issues and imbalances, and support with how to make the necessary adjustments and get better.
I'm currently building the online version of the From Tired to Terrific program which will be available in a few months. In the meantime I run this program working 1:1 with clients providing all the materials electronically and via a Facebook support group.
Program details will be discussed with each individual on application.
If you are ready to release the fatigue for good, call me to discuss your circumstances and how I can help.
MAKE THAT CALL, IT COULD CHANGE YOUR LIFE!
PROGRAM INFORMATION
A premium comprehensive adrenal fatigue recovery program – a step-by-step blueprint to recharge your energy and regain good health
Get back your life and mojo back!
DURATION
From 6-12 months+. Every person's adrenal fatigue recovery journey is different, therefore it's hard to estimate how long it'll take you to start feeling significantly better.
You should start noticing improvements once you've adjusted your diet and lifestyle habits, but keep in mind that adrenal fatigue isn't something that is fixed overnight.
Give yourself a minimum of 6 months to start feeling better, and at least 12 months if you've had adrenal fatigue symptoms for longer than one year.
PRICE
Price on application
Monthly payment plans are available.
Contact me to discuss your circumstances to see if this program would be suitable for you.
I offer a 15-minute free phone or Skype discussion to talk about your health needs. You can also book it online.

CLIENT EXPERIENCES
"I first came to see Joanna after becoming frustrated with the lack of results with the medical treatment I had been receiving. For six years I have struggled with fatigue, foggy mind, low blood pressure, dizziness and insomnia. No matter how much I rested or slept, I still lacked the energy and was just barely getting through the day. Whilst working with Joanna we discovered that I had a stage 3 adrenal exhaustion and also a gluten intolerance. With a simple change of diet, daily relaxation activities and taking adrenal herbs and supplements, my fatigue diminished within 3-4 months and I began to feel more energetic for the first time in years. Additionally, I noticed my mind worked better and I felt more positive about life. Joanna has truly been a gift in my life. I wish I'd have meet her all those years ago when my health troubles started. Not only is she a first-class practitioner but she is a really warm and nurturing person who treats her patients with true respect and dignity. I highly recommend Joanna to anyone seeking health changes and a truly genuine practitioner-patient relationship."
"I have had amazing results working with Joanna with regard to tiredness, hormonal imbalances and digestive issues. The first time I saw Joanna, I felt like someone was really listening to what I was saying for the first time – she looked at every detail of both my present lifestyle and diet back to my childhood in order to find the best way of treating me. No one had ever taken this kind of time to look over my medical history, food and supplement intake and lifestyle. No research was too much trouble for her, and as a result after just five weeks of seeing her, I both looked and felt a different person. We worked as a team implementing my nutrition plan, lifestyle modifications and a supplementation program. Since then I have improved tremendously, thanks Joanna! It gives me a sense of comfort just to know that you are there for me."
Work With
Me
Let's have a 15 minute free discussion about your health concerns and how I can help.