Kumquat jam rocks! Are you familiar with kumquats? I certainly wasn't until a few weeks ago when I came across this gorgeous tree in the neighbourhood showing off plenty of small oval shaped bright orange fruits that were very popular with the local birds. Here's the photo of this beautiful tree.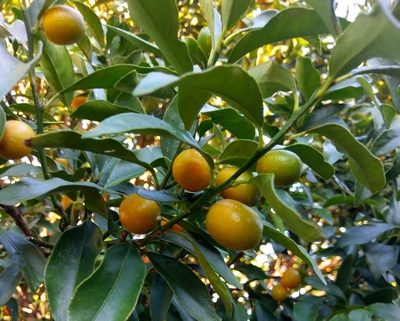 The kumquat tree originates from China (kumquat means 'gold orange' in Chinese) and is found in Asia, Southern Europe, the Middle East and southern USA including Florida and California and in Australia where I live.
The fruit has a really interesting flavour – the skin is sweet and the flash is bitter/tart, overall the fruit has a strong, refreshing and unique aroma. Kumquat's peel, which is eaten along with the flesh, is thin and easy to cut through to the flesh that is juicy and soft.
Having looked online for ideas on how to consume kumquats, I understand that some people choose to only eat the sweet skin and squeeze out the tart juice! The skin is sweet and tastes amazing but for me eating the whole fruit tastes best.
The ripe bright orange fruit can be enjoyed in many ways: fresh, sliced and added to salads, cooked, pickled, as dried peel and in jams or marmalades.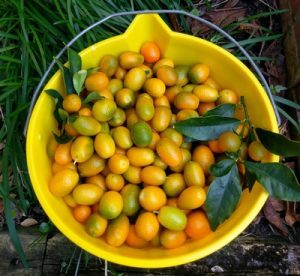 Kumquat is very nutritious as well, rich in carotene, vitamins C (a rich source) and E, minerals (including calcium, potassium, manganese and copper), many essential oils, fibre and antioxidants which provide strong free radicals protection. Even Dr Mercola has a post on kumquats on his website with a few studies that investigated their healing properties! Check it out here.
Kumquat jam recipe
This is a very simple recipe that works well every time and tastes fantastic. I looked at many kumquat jam recipes online before deciding to make my own version with just two ingredients – and it turned out to be outstanding.
The fruit is small so it will take time to prepare the kumquats if you are using larger quantity of fruit. You'll need a few hours for slicing the fruit into quarters and removing the seeds. Put on your favourite music and you'll be fine:).
Ingredients
1 kg of ripe kumquats
750g-1 kg of sugar
A splash of brandy or whiskey (optional)
Wash the fruit, cut it into quarters and remove the seeds. Place the fruit pieces in a big, deep frying pan and simmer for an hour or so stirring frequently until the skin is soft and the mix has reduced and thickened (add a little water if the mixture is too thick). Mix in the sugar and simmer slowly for another 40-50 minutes stirring frequently until the mixture is soft and thick.
Addition of brandy will further enhance the flavour, if it's something you enjoy. I did add brandy to 1/3 of the jam and left the rest as it was thus creating two different flavours.
Put the hot jam into small sterilised glass jars (put the jars in the oven for around 15 minutes at 100C before using them). Leave overnight. Keep the jars in a cool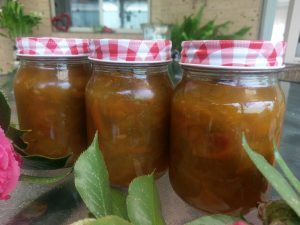 place. Enjoy the orange coloured and aromatic jam with freshly cut bread, on a toast or spread over your favourite chocolate (homemade) biscuits:)
I made my jam using 3 kg of fruit and ended up with 15 jars of this delicious jam! Everyone who tried it totally loved it. So I'm going to give a few jars of this homemade delight as gifts to my friends and family to spread the word about my new favourite jam.
Do you have a favourite kumquat jam recipe to share? Post it in the comments below, thank you! I'd love to hear about it!
Good health and blessings

Joanna Sochan
Adrenal Fatigue and Digestive Health Expert
Naturopath || Herbalist || Nutritionist || Reiki Practitioner
Check out other posts here: